Leaves are falling, the air is crisp, and pumpkin spice is everywhere. Fall is here, and it's the very first one for your new baby! You've probably already begun collecting cold-weather coats, hats, and snuggly blankets for the change of season. Once you've covered the bases, it's time to get fun with your baby's clothing. Why not make your baby's first autumn extra-special by dressing her in the season's latest fashion? Trips to the apple orchard and pumpkin patch are even better when you and your baby are enjoying autumn in style. Girl or boy, there are a collection of trends to follow this fall. Make sure your baby's clothes are thoroughly on-point!  
Ruffle your baby up. The most stylish infant clothes are adorned with frilly ruffles this autumn. Dainty dresses are always adorable on a brand-new baby girl, but don't stop at a ruffled dress. Look for delicate decorative ruffles on sleeves, collars, and down pants legs. Jackets and sweaters with ruffles are perfect for keeping baby cozy as the temperature drops, while keeping her up on the current trends. Bonus points for snatching up a ruffled receiving blanket for chilly evening stroller rides.
 Look for lace all over the place. Lacy accents are normally found on special-occasion-only baby clothing. This fall, seek out lace on everyday wear, like bodysuits, leggings, sweaters, and baby accessories. Decorative lace overlays are lovely for autumn, but so are lace trimmings on hemlines and delicate lace headbands. When you shop for lacy babywear, run the fabric over the back of your hand to be certain that it won't be too itchy or irritating against you little one's sensitive skin.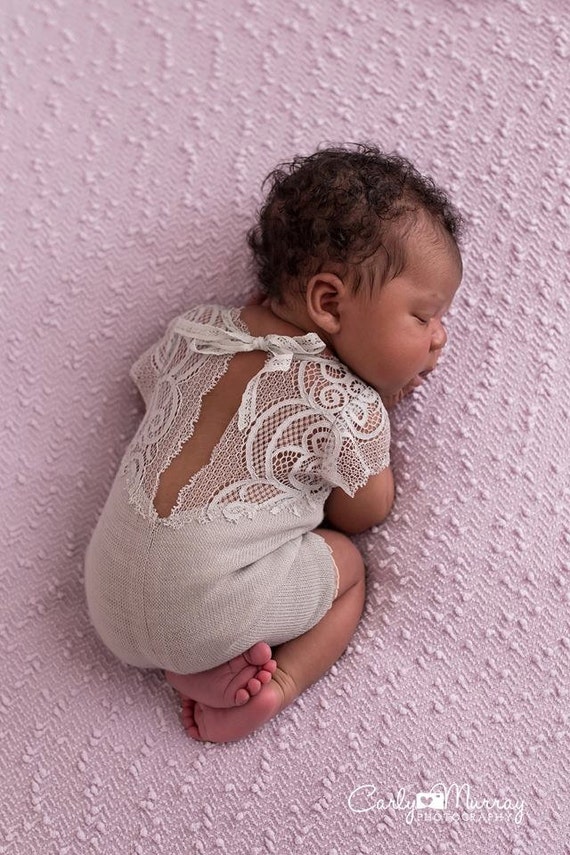 Dress for the great outdoors - even if you'd rather stay inside. Wild woodland themes are all over baby clothes this fall, matched with wonderfully rich earthen tones. It doesn't matter if you've never been camping in your life, you can still dress your baby in this season's mountain and forest motifs. Woodland critters like foxes, owls, fawns, and bears pop up in beautiful patterns, as well as designs evocative of late-night s'more roasting and hikes in autumnal woods. You know your baby is a little animal, so embrace that with the fall's wilderness trend.
Red, orange, and yellow are autumnal staples, but don't forget pink. Soft, dusty pink is everywhere this fall. The dusky hue matches well with the darker palette that shorter autumnal days invite. Find unexpected ways to dress your baby in this hot fall shade, like rosy booties to keep tiny toes warm or a pink bodysuit layered under a cardigan. When you're out with infants, it's crucial to keep a back-up outfit in the diaper bag (in case of spit-up, diaper issues, or food stains, just to name a few possible issues), so be sure to get an extra dusty pink shirt or two to carry with you if the first outfit fails.
Pick bold patterns for your fierce little one. Fearless floral patterns are especially popular this autumn, but also find checks and plaids for your fashionable infant. Infant clothing usually tends toward gentle motifs and light colors, so choosing a piece with strong designs will make a major statement. Pair checked shirts with solid bottoms, or oversized polka dots with a simple onesie. These patterns are particularly well-suited to your little girl's first tiny swing dress, when it's time to get fancy, or a baby boy's first dapper party shirt.
Remember to bring layers to keep your baby cozy. When it comes to following fall baby trends, outerwear isn't an exception. Faux-fur is popping up everywhere this autumn. Furry coats and vests will give your tiny trendsetter a polished look, especially in luxuriant cream or off-white shades. The details on these pieces really stand out, so pay attention for the cutest buttons, clasps, and toggles to complete the look. Faux-fur lined bunting and one-pieces are also perfect for the coldest autumn days, out and about.
Baby clothing safety is always in style. As you piece together your infant's perfect fall wardrobe, remember that it's important to keep an eye out for possible safety risks. Remove drawstrings from baby's clothing, as the strings can catch on cribs, seats, swings and other furniture. Also, be aware of tiny, detachable adornments on clothing items, like rhinestones, jewels, buttons, and other decorative pieces. These can fall off and become a choking hazard, so check the clothing to make sure that pieces are still attached.